Versa-Matic® Pumps
Versa-Matic® ATEX Pumps
Ultra-Matic® Pumps
Specialty Pumps
Pump Diaphragms
Accessories
Replacement Parts
E1 1" Elima-Matic® Pumps | Versa-Matic® Pumps
---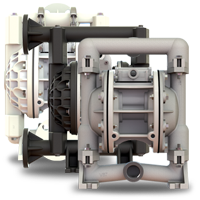 Versa-Matic's E1 1" air operated diaphragm pump uses the Elima-Matic air valve system to provide non-stalling, lube-free performance. The E1 1" plastic air operated diaphragm pump comes in optional and standard porting models, and offers a flow rate of 0-35 gpm.
The E1 1" Air Operated Diaphragm Pump...
is available in either plastic or metal
supplies a corrosion-resistant air section
provides multiple porting options
is self-priming
offers center port and split manifolds on plastic bolted pumps
offers UL listed models on bolted metallic pumps
Select an air operated diaphragm pump type to display the corresponding specifications and performance charts below.

E1 Data Sheet

E1 Brochure

Bolted Metallic

Specifications: Bolted Metallic


English
Metric
Flow Rate
adjustable to
0-35 gpm
0-132 lpm
Port Size
Inlet
1.0" Female NPT (BSP)
Discharge
1.0" Female NPT (BSP)
Air Inlet
0.375" NPTF
Air Exhaust
0.50" NPT
Suction Lift
15' Dry/25' Wet (4.57m/7.62m)
Teflon®: 10' Dry/20' Wet (3.05m/6.10m)
Max. Particle Size
(Diameter)
0.125"
3.17mm
Shipping Weight
Aluminum
31 lbs
14.07 kg
Stainless
42 lbs
19.05 kg
Hastelloy C
42 lbs
19.05 kg

Performance Chart Bolted Metallic

Note: For E1 air operated diaphram pumps fitted with Teflon® diaphragms, reduce water discharge figures by 20%. Suction lift is reduced to 10' (3.05m) dry and 20' (6.10m) wet.

Caution: Do not exceed 125 psig (8.5 bars) air supply or liquid pressure.

UL Listed Models Available
Bolted Plastic: Standard Porting
Specifications Bolted Plastic
Standard Porting


English
Metric
Flow Rate
adjustable to
0-35 gpm
0-132 lpm
Port Size
Inlet
1.0" ANSI/DIN Flanged
Discharge
1.0" ANSI/DIN Flanged
Air Inlet
0.375" NPT
Air Exhaust
0.50" NPT
Suction Lift
15' Dry/25' Wet (4.57m/7.62m)
Teflon®: 10' Dry/20' Wet (3.05m/6.10m)
Max. Particle Size
(Diameter)
0.125"
3.17mm
Shipping Weight
Polypropylene
24 lbs
10.9 kg
Kynar®
24 lbs
10.9 kg

Performance Chart Bolted Plastic Standard Porting

Note: For E1 air operated diaphram pumps fitted with Teflon® diaphragms, reduce water discharge figures by 20%. Suction lift is reduced to 10' (3.05m) dry and 20' (6.10m) wet.

Caution: Do not exceed 100 psig (6.9 bars) air supply or liquid pressure.

Options: Center Port and Split Manifolds Available
Bolted Plastic: Optional Porting

Specifications Bolted Plastic
Optional Porting


English
Metric
Flow Rate
adjustable to
0-35 gpm
0-132 lpm
Port Size
Inlet
1.0" ANSI/DIN Flanged
Discharge
1.0" ANSI/DIN Flanged
Air Inlet
0.375" NPT
Air Exhaust
0.50" NPT
Suction Lift
15' Dry/25' Wet (4.57m/7.62m)
Teflon®: 10' Dry/20' Wet (3.05m/6.10m)
Max. Particle Size
(Diameter)
0.125"
3.17mm
Shipping Weight
Polypropylene
24 lbs
10.9 kg
Kynar®
24 lbs
10.9 kg

Performance Chart Bolted PlasticOptional Porting

Note: For E1 air operated diaphram pumps fitted with Teflon® diaphragms, reduce water discharge figures by 20%. Suction lift is reduced to 10' (3.05m) dry and 20' (6.10m) wet.

Caution: Do not exceed 100 psig (6.9 bars) air supply or liquid pressure.

Options: Center Port and Split Manifolds Available