Flux Renner RM 2.1 Magnetically Coupled Centrifugal Pump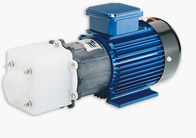 Magnetically coupled centrifugal pumps of building group 2.1 are self-priming centrifugal pumps with volute casing. They operate in horizontal position and are built in monobloc design. A magnetic coupling connects the pump to the electromotor and transmits the power of the motor to the impeller.
Constructional design
Housing, impeller magnet coating and rear casing can be made of either PPS* or PVDF**. Sleeve bearings, starting ring and centering shaft are made of 99.7% pure oxide ceramic. O-ring sealing of the housing is made of FPM, EPDM or FEP (optionally available). *Impeller made of PPS. **Ceramic impeller.
For aggressive and neutral liquids
For short-term and continuous operation
The pump is available in:
PP, PVDF
Pump sizes 9/8 | 35/17
Motor:
230/400V three-phase motor or
230V single-phase ac capacitor start-and-run motor, 370-550 watts, 50 Hz, insulation class F, protection class IP 54 motor speeds of 1,450 and 2,900min-1
– Other voltages and frequencies are available on request. –
Weight:
Fluid temperature range:
PPS -4° to +212°F
PVDF -4° to +176°F
Pressure range: **
PPS up to 58 PSI
PVDF up to 58 PSI
Position of terminal box:
Position of discharge port:
Ports:
suction port: G½ internal thread
discharge port: G½ internal thread
Accessories (optional):
explosion-proof motor
motor circuit-breaker for 230/400V three-phase current
connection cable 5m long with CEE plug
pilotherm for 230V ac
ON/OFF switch with connection cable 2.5m long and plug for 230V ac
flexible hoses
hose connection consisting of several pieces
hose nipple with G½ external thread
*  Maximum system pressure depends on the temperature of the fluid delivered.