LJ10 Series Open-Hopper PC Pump for Fruits and Vegetables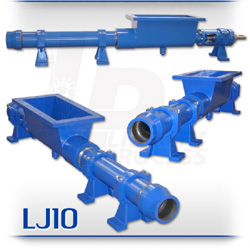 LJ10 Series Open-Hopper PC Pump for Fruits and Vegetables
The LJ10 Series Open Hopper Progressive Cavity Pump is an ideal pumping solution for low-flowable mediums with high solids contents such as vegetables and fruits. Flow rates of 18.8 GPM/ per 100 Revolutions (52 GPM to 84 GPM) at 225 PSI are standard through the range of the series. The Justice Series offers a design of a heavy-duty auger conveyor screw mated to a rotor and stator for the most difficult pumping applications.
The large rectangular feed hopper design easily accommodates your pumping medium while the non-pulsating design of the product produces a low-shear flow that conveys your medium along effortlessly. Solids in suspension of up to 50% are accommodated by the Auger design.
The modular design of the LJ10 Series is a hardened pinned-joint drive assembly with a body available in steel or 316 stainless steel and internal wetted components in either stainless steel or hardened tool steel with hard chrome plating for long-life and durability in abrasive pumping applications.
Rotors and Stators for the LJ10 Series are available in 1, 2, and 3 stages for applications with 75, 150, and 225 PSI discharge pressures with stators available in Buna Nitrile, Viton®, EPDM and Natural Rubber. The standard seal design is a set of packing with a lantern ring and flush connections. Mechanical Seal options are readily available.
Technical Data
FLOW RATE – 52 – 84 GPM
PRESSURE – 0 – 225 PSI
SEAL OPTIONS – Packing & Mech Seal
BASE OPTIONS – Steel and Stainless Steel
INLET/OUTLET – 26″ x 12″ / 5″ NPTF
ROTORS – Tool Steel & Stainless Steel, Chrome-Plated
STATORS – Buna, Rubber, Viton®, EPDM
MOTOR OPTIONS – 5, 10, 15 HP
Features
Large Hopper
Welded Auger
Hardened Joints
Packing or Mechanical Seal
3-Stage Options
Steel or Stainless Steel