GMX 8000 Series Large Tank Industrial Mixers From Dynamix Agitators
Industrial Agitators are what our company is known for. The GMX series of mixers is designed to handle all of your large tank mixing needs in an economical configuration, without sacrificing durability or efficiency.
Process and Storage Tanks require industrial agitators of varying levels of "duty". The GMX Model can be used as an industrial agitator in many large tanks, but typical configurations offer a unique economical solution to large tank mixing.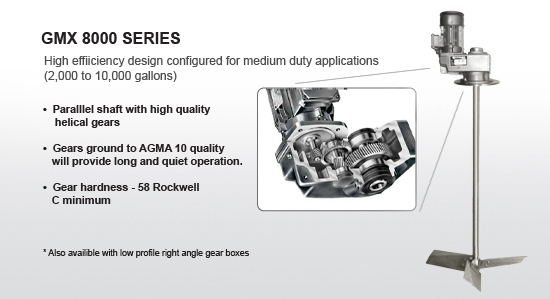 GMX 8000 Configuration Options
MOTORS
Power Range:
1 to 5 HP
Standard NEMA C-face motors.
GEARS
Minimum Service Factor of 1.5
Ensures continuous operation under heavy loads.
MOUNTING
Plate/Flange
Plate, Flange or Angle Mount, Angle or Offset Mounting configurations available to avoid the need for baffles, and optimize mixing.
BEARINGS
Deep groove ball bearings
Rated L – 10 for life over 50,000 hours.
OIL SEALS
Quardrillip Seals
Protects gearbox from the environment and offers redundant protection of your application from contamination.
HOUSING
SAE 30 Gray Iron
Strong and Rigid.
SHAFT
MOUNTING
Hollow quill assembly
Types include hollow quill coupling for ease of field assembly.
IMPELLERS
High Efficiency Pitch
Bridges the benefits of our P4 Pitch impeller and the low shear of our Dynaflow. The design benefits of this impeller include easy installation and an economical price. *Other impellers also available.
MATERIALS
Available in all
machineable metal
Carbon Steel, Stainless Steel other Coatings Available.