LL12 Progressive Cavity Pump | Grease & Scum Removal and Transfer PC Pump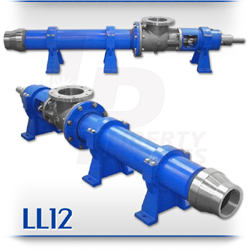 LL12 Progressive Cavity Pump
The LL12 Progressive Cavity Pump is an industrial-sized and manufactured heavy-duty progressive-cavity pumping unit for difficult thickened pumping agents such as greases, grease and biosolids in suspension and scum with solids content. The LL12 Series is a standard flanged pump manufactured with cast iron or 316 stainless steel casings and designed in 1, 2, and 3 stages for 75, 150 and 225 psi discharge pressures and is carried in stock. Flow rate (43.5 gallons/100 revolutions).
The LL12 is a modular design with simple hardened pinned joint drive assembly. Rotors are typically hardened tool steel or 316 stainless steel with an applied hard chrome plating for long life in abrasive and erosive applications. All other wetted parts are either carbon steel or 316 stainless steel for added durability.
Stators are available in many elastomer materials such as buna, natural rubber, epdm and viton. The standard seal design is a set of gland packing with Lantern Ring and Flush Connections. Mechanical seal options for the LL12 are readily available.
Technical Data
FLOW RATE – 123 – 380 GPM
PRESSURE – 0 – 225 PSI
SEAL OPTIONS – Packing & Mech Seal
BASE OPTIONS – Carbon and Stainless Steel
INLET/OUTLET – 8″ / 6″
ROTORS – Tool and Stainless Steel, Chrome Plated
STATORS – Buna, Rubber, Viton®, EPDM
MOTOR OPTIONS – 3, 5, 7.5, 10, 15, 20 & 25 HP