TSA2 Sandpiper Air Operated Double Diaphragm FDA Metallic Pump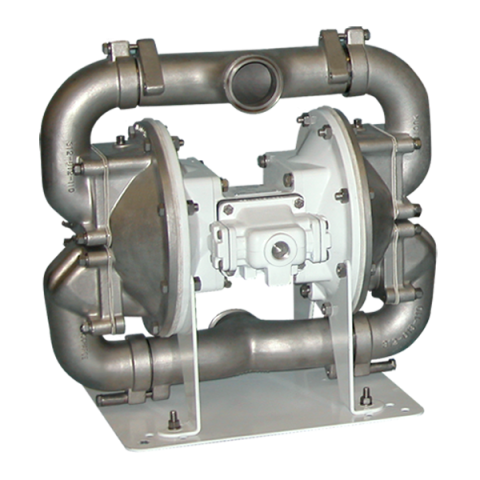 FDA (Food & Drug Administration) Material Compliant Pumps are ideally suited for a variety of food processing, pharmaceutical and cosmetic industry applications. These air operated double diaphragm pumps are available in 1″ through 3″ ball check valve designs and a 2″ (line size solids handling) flap check valve design. Variable flow capacities across the range are 0–235 gallons per minute. These special duty pumps are constructed of FDA compliant material components of Stainless Steel (wetted castings) and a selection of FDA Santoprene, FDA Nitrile and PTFE diaphragms, check valves and valve seats. Standard non-wetted components are white epoxy coated Aluminum with stainless steel hardware. 1″, 1½" and 2″ pumps are offered with sanitary clamp fittings and 3″ pumps are offered with an ANSI flange.
Materials Of Construction
Electropolished 316 and 302/304 Stainless Steel components.
Porting Options
Rotatable manifolds, and top or bottom discharge available.
Specifications
Port Size
2 1/2″ TRI-CLAMP
Capacity
0 to 140 gpm (530 lpm)
Air Distribution Valve
No-lube, no-stall design
Solids-Handling
Up to 2″ (50 mm)
Heads Up To
125 psi or 289 ft. of water (8.6 bar or 88 meters)
Displacement/Stroke
.10 gallons (.38 liters)
Max Operating Pressure
125 psi (8.6 bar)
Shipping Weight
Stainless Steel: 133 lbs. (60 kg)