Universal Open and Closed Head Drum Mixer From Dynamix Agitators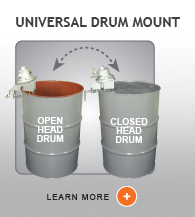 The Universal Drum Mount Mixer is one of our more unique configurations in the MMX 1000 Line. This innovative design allows the MMX Mixer to be mounted to an Open Head Drum or swapped to a Close Head Drum.
As with all MMX Series Mixers our standard offerings come in many different configurations and dimensions. The following drawings are "typical" and will vary according to your configuration.
Configuration Options
MOTORS HP RANGE – 1/4 TO 1 HP
Air, electric, variable speed, explosion-proof, and more
GEAR REDUCTION – DIRECT, 5:1
Available with gear reduction to suit your most challenging applications
MOUNTING – Universal Drum Mount "UDM"
Multiple mounting options for open and closed head drums
IMPELLERS – FIXED OR COLLAPSIBLE
Collapsible impellers offer increased mixing through 2″ opening
DYNAMIX AGITATORS ARE CONFIGURED AND SELECTED ACCORDING TO YOUR NEEDS. THESE IMAGES AND CONFIGURATION OPTIONS ARE ONLY GUIDELINES TOWARD YOUR FINAL MIXER SELECTION.