Double Wall Storage Tanks from ACO Container Systems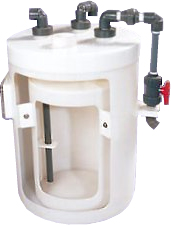 Double Wall Storage Tanks from ACO Container Systems
ACO's full line of Double Wall Tanks provide the best protection and peace of mind for chemical storage applications. Consists of a primary inner tank and secondary containment tank, with a capacity of 120% of the inner tank.
Excellent chemical and corrosion resistance and low temperature impact
Durable one-piece seamless construction
Built to ASTM specifications
UV stabilized for sunlight protection
Narrow diameters for space saving in-plant use
Rated for liquids with a specific gravity (density) of up to 1.5 (1.9 and 2.2 tanks are also available)
Manufactured from HDPE or XHDPE (cross-linked polyethylene)
The HDPE resin complies with FDA and is listed NSF 61 for potable water applications
Fittings are not supplied on tanks unless requested
Bottom Thru-Containment Outlet and Leak Detection Device available (optional)
We recommend double wall tanks be supplied with a top suction line to avoid any holes below the water line.
DMT Double Wall Tanks
Inner tank dome overlaps outer tank sidewall to prevent rainwater, snow and debris from entering into the containment basin. Narrow design is ideal for space saving. Molded-in lifting lugs (large tanks only) and upper fitting flats are standard. Molded-in lower fitting flats can accommodate our sturdy optional bottom outlet.
Code Number

Capacity

Diameter

Height

Manway

Imp. Gallons

Litres

40

195

24″

51″

5-1/2″

70

320

34 3/4″

39″

6″ or 10″

100

450

34 3/4″

51″

6″ or 10″

135

610

34 3/4″

66″

6″ or 10″

225

1020

47 1/2″

58″

16″ or 21″

335

1520

47 1/2″

76″

16″ or 21″

450

2040

47 1/2″

94″

16″ or 21″

900

4100

85″

74″

16″ or 21″

1350

6100

85″

98″

16″ or 21″

2100

9500

96″

115″

16″ or 21″

2500

11000

96″

134″

16″ or 21″

3300

15000

96″

173″

16″ or 21″

4300

19500

119″

149″

16″ or 21″

5400

24500

119″

181″

16″ or 21″