LJ8 Series Open Hopper PC Wine Must and Slurry Pumps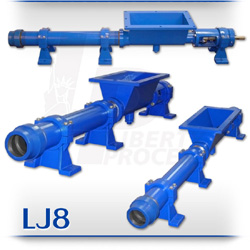 LJ8 Series Open Hopper PC Wine Must and Slurry Pumps
The LJ8 Series Open Hopper Progressive Cavity Pump for spent grains and wine must is a popular choice for the brewery and wine-making industry. Flow rates of 11.7 GPM per 100 Revolutions (24 GPM to 51 GPM) at 225 PSI are standard through the range of the series. The Justice Series offers a design of a heavy-duty auger mated to a rotor and stator for the most difficult pumping applications.
The large rectangular feed hopper design easily accommodates your pumping medium while the non-pulsating design of the product produces a low-shear flow that conveys your medium along efficiently. Solids in suspension of up to 50% are accommodated by the Auger design.
The LJ8 Series Progressive Cavity Pump parts are direct aftermarket replacements that dimensionally interchange with the Moyno® J8 Series, and the Tarby® TJ8 Series.*
The modular design of the LJ8 Series offers a hardened pinned-joint drive assembly with a pump body available in steel or 316 stainless steel and with internal wetted components in either stainless steel or hardened tool steel with hard chrome plating for long-life.
Rotors and Stators for the LJ8 Series are available in 1, 2, and 3 stages for applications with 75, 150, and 225 PSI discharge pressures with stators available in Buna Nitrile, Viton, EPDM and Natural Rubber. The standard seal design is a set of packing with a lantern ring and flush connections. Mechanical Seal options are readily available.
Technical Data
FLOW RATE – 24 – 51 GPM
PRESSURE – 0 – 225 PSI
SEAL OPTIONS – Packing & Mech Seal
BASE OPTIONS – Steel and Stainless Steel
INLET/OUTLET – 20″ x 10″ / 4″ NPTF
ROTORS – Tool Steel & Stainless Steel, Chrome-Plated
STATORS – Buna, Rubber, Viton®, EPDM
MOTOR OPTIONS – 3, 5, 7.5, 10 HP
Features
Large Hopper
Welded Auger
Hardened Joints
Packing or Mechanical Seal
3-Stage Options
Steel or Stainless Steel