NMX Series Industrial Agitators | Industrial Agitators | Dynamix Agitators
Drum And Barrel Mixing Equipment
Dynamix's Industrial Agitators and Mixers utilize the most robust gearbox, bearings, and shaft configurations. Our Industrial Agitators also address ancillary needs such as efficiency, required reactions, environmental, and unique application factors. This is how Industrial Agitators are engineered into true heavy-duty mixing solutions the NMX Series.
This agitator is specifically designed for heavy industrial mixing. Quality components and rugged construction produce long-term, trouble free operation. These agitators are both heavy-duty and high-efficiency.
This mixer series is the powerhouse of our line of Industrial Agitators, and is typically applied in heavy industry such as Energy and Natural Resources, and large-scale chemical processes.
Key Features
For use in applications ranging from 2,500 to 100,000 gallon tanks
Each agitator is custom designed for the application
Heavy-duty gearbox design to withstand the heaviest loads
Accommodates any tank with multiple mounting options
Standard High-efficiency DynaflowTM impeller
Multiple impeller options available
Configuration Options
MOTORS HP RANGE
Standard NEMA C-face motors with a power range from 1 to 75 HP. Other motor configurations are available.
GEARS
Gears are constructed of SAE 8620 steel, with a minimum 58 Rockwell hardness. Ground to AGMA 13 quality rating, the gears will provide long and quiet operation.
GEAR REDUCTION
The NMX Series features gear reduction ratios from 5:1 to 130:1, providing a wide-range of mixing speeds for all applications.
HOUSING
A strong and rigid one piece housing design is crafted from SAE 30 gray iron, and features exceptional housing torsional stiffness and a thick housing wall section.
HEAVY-DUTY
Oversized, tapered heavy-duty output roller bearings are rated for an L-10 life over 100,000 hours, and can withstand the heaviest loads.
OIL SEALS
Quardrillip output oil seal design protects assembly even in the harshest environments. Drywell seal option is also available.
SHAFT MOUNTING Shaft mounting options available include hollow quill or solid shaft with flange coupling for ease of assembly in the field.Optional flange is available to allow quick disassembly of gearbox from mixer shaft for service.
SERVICE FACTOR Based on motor horsepower, a minimum gearbox service factor of 1.5 ensures continuous long-term operation under heavy loads.
MOUNTING
The NMX Series features flexible mounting options fabricated from thick steel. Plate, Flange or Pedestal mounts ensure compatibility with a wide range of tanks and supports.Various sizes are available.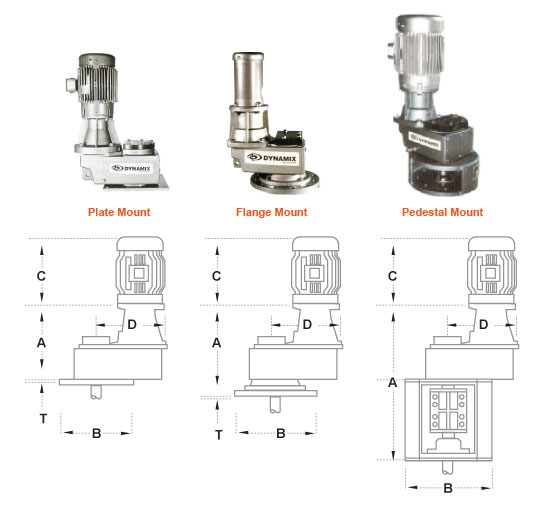 SHAFT
All Dynamix shaft sizing minimum parameters meet or exceed industry standards and all shafts are designed to withstand torsional and bending loads. Our shafts are designed to run well below critical speeds and have a conservative slenderness ratio to eliminate excessive vibration.Solid shafts are standard, while a hollow shaft option is available for longer shafts.
IMPELLERS
High-Efficiency DynaflowTM Dynamix Dynaflow impellers are extremely efficient producing a high-level of pumping per input horsepower. The best impeller for low viscosity blending and solid suspension applications up to 2500 cps.Pitch Suited for applications when a greater fluid shear level is required than a Dynaflow impeller can offer or for higher-viscosity applications.Radial A radial impeller is best suited for low-level liquid blending or high-shear mixing applications.
Other customized impeller options are also available, including:
High-solidity Dynaflow for gas dispersion and solid suspension applications
Rushton Turbine for gas dispersion
Ragless impeller for wastewater applications to prevent ragging
Feel free to call us to discuss your specific impeller needs.
IMPELLER HUBS
There are several options available for impeller hubs:
Completely Welded both hub and impellers are welded to shaft
Welded Hub hub is welded to shaft, impellers are bolted to tab
Keyed Hub hub is keyed to shaft, impellers are bolted to tab
Split Hub for hollow shaft applications
CONSTRUCTION MATERIALS
Carbon steel and stainless steel are standard construction materials. Other materials and coating options are also available to address issues such as abrasion / corrosion resistance.
Note: We do not have one single model for industrial agitators.