ROYTRONIC EXCEL™ Series AD Chemical Metering Pumps from LMI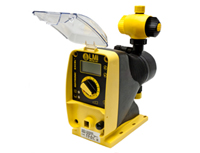 ROYTRONIC EXCEL™ Series AD Pumps
ROYTRONIC EXCEL™ Series AD Chemical Metering Pumps are the Digital Series of positive displacement, Liquifram™ chemical metering pumps with an NEMA 4X/IP-65 enclosure. Relevant model codes are NSF, UL/CUL or CE certified and offer control options and improved electro-magnetics to meet all flow / pressure ratings. Designed for Commercial/ Municipal applications, the pumps are available for applications up to 250 psi with capacities between .001 and 2.0 GPH. Dual manual control options with pulse input and 4-20 mA input are available. Standard FastPrime™ Liquid Ends are equipped with a valve that allows for opening the head to atmospheric pressure to assist in pump priming. Standard half-inch NPT connections allow for ease of configuration. Ferrule designed fittings offer secure, leak-proof tubing connections.
Push button controls
LCD user interface
Durable and lockable clear cover
Theoretical flow rate display
NEMA 4X/IP-65 enclosure
Industrial grade IP-68 external signal/equipment interface
Selectable Alarms (9 Series)
Backlit graphical display  (9 Series)
Separate pulse/4-20 mA input and output connections (9 Series)
Internal/External mode indicated with a wired output (9 Series)
3 Year Warranty
UL, CUL, NSF 50, NSF 61, CE Certifications
Control Codes:
2 – Dual Manual Control (speed and stroke length)
8 – Pulse/Analog Input / Dual Manual Control
9 – Pulse/Analog Input and Output w/Dual Manual Control & Enhanced Controls
Output Codes with FastPrime™ Liquid End
Max Capacity:
  Max Pressure:
1 – 0.21 GPH (0.8 l/h)
250 psi (17.2 Bar)
4 – 0.5 GPH (1.9 l/h)
250 psi (17.2 Bar)
5 – 1.0 GPH (3.8 l/h)
110 psi (7.6 Bar)
6 – 2.0 GPH (7.6 l/h)
50 psi (3.4 Bar)
Click here for LMI Roytronic series AD Detailed Specifications.