SINUS SODIAL Pump from Soma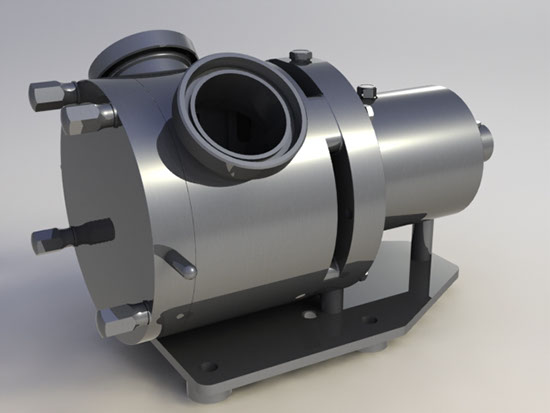 The Sinus sodial curve shaped rotor is fitted on a pump shaft. Due to the design, four chambers are created in which the product will be transferred very gently – without any shear or damage to the product.
A scraper divides the suction and the pressure side. The rotor does not run against the housing or the cover. That means that the housing and the cover will never wear out. SOMA Pumps GmbH offers a unlimited guarantee for the cover and the housing.
Various seal system can be offered such as – triple lip seal system or mechanical seal systems are available. The SOMA Sinus sodial Positive Displacement Pump works according the SINUS SODIAL PUMP principle, which was developed by Manfred Sommer in 1982.
This pump range of SOMA is one of the view positive displacement pumps which will be supplied – as a standard – in stainless steel. However, the sales price of the unit is even lower than pumps with painted power frames. The stainless steel powerframe is standard for the sizes 20 – 25 and 40.
The pump will be supplied with a stainless steel conversion plate if you intend to exchange the present sinusoidal pump. This can be done in a very short amount of time all main parts of the pump are interchangeable with other sinusoidal pumps.