TOP-FLO® Sterile Access Valve from Top Line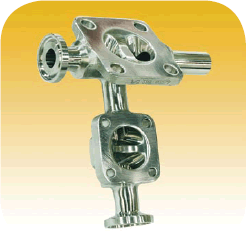 TOP-FLO® Sterile Access Valve from Top Line
Top Line for years has specialized in manufacturing custom fabricated products designed specifically to meet our customers' requirements. Our primary objective has always been to design and manufacture these specialty products by using state-of-the-art manufacturing practices and technologies.
Top Line and its affiliates employ engineers with a vast range of expertise and knowledge in the bioprocessing and pharmaceutical industries. The benefit of this is our ability to provide quick and accurate solutions to even the most complicated problems that occur in the field. All specialty products are manufactured using good manufacturing practices and are put through a very rigid quality control inspection before leaving our facility. These practices ensure that our customers receive quality parts ready for immediate installation. 100% BPE Compliant with full material traceability.
Features
The TOP-FLO® Sterile Access Valve assembly provides access to the horizontal valve body at the lowest cross sectional point. The access port can be used for sampling, steam sterilization, purging or condensate drainage. Ports are furnished with buttweld tube ends, clamp ends, or the utilization of a secondary valve. 100% BPE Compliant with full material traceability.
Top Line offers several different types of switch packages and control monitors for position feedback to PLC.
Optional integrally mounted or externally mounted solenoid valves are also available.
Options include:
Point-to-Point:
Mechanical
Proximity
Namur
Network Type:
AS-i
DeviceNet
Foundation Fieldbus
Modbus
Manufactures available but not limited to: Westlock, StoneL, Moniteur, Burkert, A-T Controls
Note: Not all platforms are available on all valve types. Consult factory for availability depending on requirements.