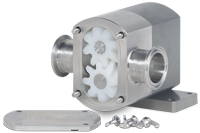 UNIBLOC-GP: Gear Pump
Smooth flow, reliability, effortless maintenance… these features are the foundations for the UNIBLOC-GP series of gear pumps. With its precision-machined gears, the UNIBLOC-GP produces virtually zero-pulsation flow with uncompromising accuracy. Built with the same rugged design as the UNIBLOC-PD, the GP Series offers solid construction for worry-free dependability. The GP Series features our signature QuickStrip™ design, requiring no tools for maintenance, making it the most serviceable gear pump in the industry.
Features
Pump Head
Precision Machined from solid stainless steel, the Unibloc Pump Head is the cleanest in the industry. The Seamless Design and Porosity Free Guarantee are standard features found only on Unibloc Pumps. The pump head interior and front cover have no pockets or crevices for product to become trapped, resulting in a fully CIP/SIP able design. Every Unibloc Pump Head features our VSM technology, allowing the pump head to fit any seal type.
Gears
With both helical and spur gear designs, Unibloc gears provide smooth, accurate, and pulsation-free flow. Unibloc gears are available in a wide array of materials such as Teflon/Stainless composite, Teflon, and various plastics.
No Tools Necessary
Quickstrip™ design is Unibloc's solution for applications requiring fast and easy cleanability. Through advanced design, our engineers have developed pumps that disassemble without the need for tools. This enables ease of cleaning and maintenance while reducing wear and tear on components and reducing downtime. Quickstrip design can be found on all Unibloc-GP and select PD pumps.
3A
Unibloc Gear Pumps are designed with strict adherence to 3A sanitary standards.