Versa-Matic® N25 1″ High Pressure Double Diaphragm Pump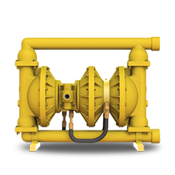 Versa-Matic N25 1″ full flow high pressure pumps offer enhanced power when pressure and flow rate are important.
Versa-Matic N25 high pressure pumps achieve discharge pressures up to 238 psi using two air chambers to double the amount of air per stroke. Included in the full flow design is an additional air chamber to provide higher flow rates with less pulsation, resulting in reduced wear on pipes and fittings.
Versa-Matic N25 High Pressure Double Diaphragm Pump
are available in either aluminum or stainless steel
can start at zero head pressure with no diaphragm damage and no need for a separate fill pump
Versa-Matic® N25 1" High Pressure Double Diaphragm Pump